Maya Bulgakova in Wings
The visions are brief, but when they come to her they offer something so sweet and pure that one might imagine them belonging to the world of daydreams and fantasy. But they come from reality - Nadezhda Petrukhina's reality, as she lived it many years ago when she flew as a fighter pilot for Stalin's air force. Through her eyes and memories, we are sent soaring high up, slicing between layers of clouds as the ground below, vast yet minuscule, tilts and turns. But these moments, sweet as they are, are also cruelly brief, allowing us just a few seconds of flight at a time before the present literally comes back into focus, returning us to the drab confines of Nadezhda's current life as a civilian, teacher, and respected public servant. Over the course of Wings (1966), the first feature film she made after graduating from the All-Russian State Institute for Cinematography (VGIK), Larisa Shepitko follows her heroine through the quotidian labyrinth in which she now lives out her days, seeing to chores and duties with rigorous diligence. Nadezhda is surrounded by an eclectic gallery of faces - colleagues and students, assistants and acquaintances, housekeepers and merchants, nearly all of whom seeming to know her, looking to her with an instinctive sense of respect. It's easy to see why: with her iron-firm demeanor and sharp, hawk-like features, she right away makes a striking impression as a woman not to be crossed. The great character actress Maya Bulgakova plays her beautifully, incorporating doubt, regret, anxiety about time and age, self-awareness, and a keen sense of humour beneath the surface devotion to protocol and responsibility. Nadezhda - many warmly call her Nadezhda Stepanovna - is so much more than the decorated war hero and exemplary citizen she appears to be, carrying with her the memories and experiences of another chapter in her life that still linger within her with haunting potency in the postwar present, commingling with her anxiety about where she now finds herself and where she is headed.

Of all the things that weigh upon Nadezhda Stepanovna regarding the place she has reached in her life, two in particular cast the longest shadows upon her sense of contentment. The first of them is the roguish student Vostriakov (Sergei Bystryakov), whose expressions of disdain towards the school, his annoying classmates, and authority figures curdle into a simmering hatred he directs squarely at Nadezhda, triggered once she disciplines and humiliates him for some rude horseplay early in the film. She later spots him in a crowded beer hall, smirking and drinking defiantly once he sees her, shortly before he runs away from school and home altogether, delivering an additional knot of gnawing guilt upon her conscience. There is also Nadezhda's frayed relationship with her adult daughter Tanya (Zhanna Bolotova), who is so embarrassed by her mother that she avoids introducing her to her fiancé Igor (Vladimir Gorelov), prompting Nadezhda to pay a visit on her own initiative, leading to a cringingly awkward encounter. She is so tormented by Tanya's icy attitude towards her that she in turn holds back from disclosing that she is not actually her biological mother.

Nadezhda thankfully has a loyal friend in Pasha (Panteleymon Krymov), a kind fellow teacher to whom she confides her doubts and worries. But that is not enough to keep her memories from trickling into the present-tense stream of babysitting, kitchen chores, student theatrical productions, proofreading, and other mundane responsibilities that now take up the bulk of her time and attention. It isn't all drudgery and banality though: through instinct and expertise, Shepitko and her cinematographer Igor Slabnevich capture quotidian scenes of urban life that belong in the rich tradition of stark, monochrome, modernist images of postwar Europe found in the works of Left Bank filmmakers like Alain Resnais and Chris Marker and key contemporaneous directors like Ingmar Bergman, Michelangelo Antonioni, and Ermanno Olmi. One vivid passage finds Nadezhda out for a walk encountering a beguiling bounty of scenes: a platoon of firemen carrying out drill exercises in the street in their bulky uniforms; a man precariously doing handstands at the edge of a diving board high above choppy waters as a companion sits close by, watching; a crowd of people packed into a rickety streetcar all turning their heads at the same time to catch a glimpse of a dog outside. Nadezhda pays a visit to the beer hall where she previously spotted Vostriakov, now empty save for the proprietress Shura (Rimma Markova), with whom she shares a frank, friendly chat over beer and launches into a spirited burst of singing and dancing that is interrupted by a gathering of silent, curious men peering in through the windows at the two women.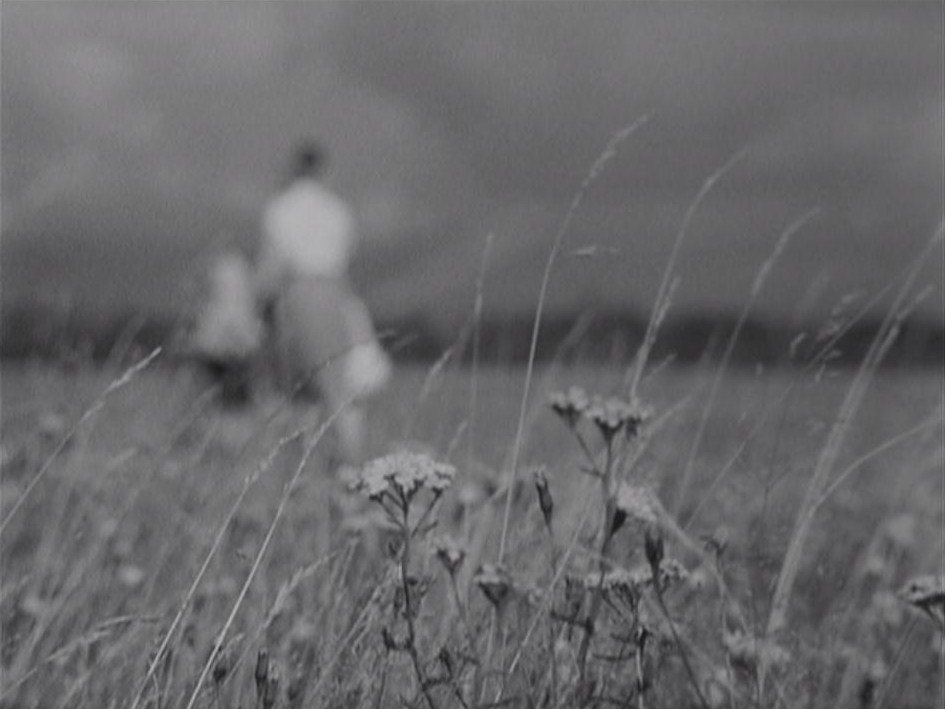 Wings
Afterwards, while walking and carrying berries from a street vendor in her cupped hands, Nadezhda is caught in a sudden rain shower that sends everyone else running for shelter. But not her; as water droplets accumulate in her hair and clothes, she uses the opportunity to rinse the berries, then peer out at the emptying streets, her gaze (and Shepitko's camera) drifting upwards, above streetcar wires and rooftops into the sky and the past, into her memories - once again shown from her point of view - of Mitya (Leonid Dyachkov), her former lover and fellow pilot during World War II. In a sequence that finds the pair exploring crumbling stone ruins, abandoned wells, and cracked ancient roads etched into the earth like gashes, these long-vanished scenes of the past crystalize in a series of freeze frames that seem to lock Mitya's face and frail, shadow-like form into the firmament of memory (this passage, among the strongest in the film, easily fits alongside the similarly unforgettable past sequences in Resnais' Hiroshima mon amour (1959) and Marker's La Jetée (1963)). The final images in the sequence tragically underline the loss of Mitya to the maws of death and history: the smoking, flame-strewn remains of his fighter; the ominous stone form of a cathedral looming in the distance.

While Larisa Shepitko's gripping war film The Ascent (1977) is the one many today regard as her masterpiece, Wings is no less remarkable an achievement. It is a work of great power, beauty, and nuance, open and alive to the rhythms of everyday life and the past's lingering hold on a busy, layered present. Among the film's most impressive achievements are the ways it explores with sensitivity and depth the life, thoughts, and feelings of one woman; her previous experiences and present situation; the scope of her achievements' continuing influence over other people's impressions of her and her longing to be free of this burden, evident in her interactions with strangers and supportive friends; the demands of her profession and the friction it creates against her innermost regrets and desires; and her ever-constant passion: flight. By the end of the film, compelled to regain control of her story, Nadezhda makes another trip out to her old airfield, where, as always, she is greeted by her old flying comrades. Left alone for a moment, she manages to find an empty plane. She hops and crawls until she has climbed onto one of the wings, then lowers herself into the cockpit. Though quiet and still, she visibly savors the moment. Then the men come back and begin pushing the aircraft along the grass, laughing and cheering as they gain speed. Their light-hearted game is amusing and makes Nadezhda smile, but it is also sad in its pathetic imitation of true flight. But Nadezhda has had enough of imitations and memories: without warning and to everyone's shock, the plane's engine suddenly roars to life, its propeller whirring into motion. The men scatter away from the plane, which begins to direct itself towards a nearby runway. Others come running, but it's no use: Nadezhda Stepanovna is finally ready to return to the bright white skies that have so often beckoned to her. Her disappointments and regrets can stay on the ground; the clouds await, and nothing can hold her back now.